It would be a shame to throw away the coffee grounds you spent precious time brewing. But what to do with this used coffee grounds? Is there anything we can do about the quality of leftover canned coffee?
This time, we'll help you use these leftover coffee grounds and bottles in an artistic and creative way! Here are some creative and practical DIY crafts you can make with used coffee beans!
1) DIY Coffee Scrub
A body scrub can help remove dead skin cells and strengthen healthy skin. Do-it-yourself coffee scrubs help remove dead skin cells and impurities and add nutrients to keep skin healthy and youthful.
This coffee scrub can be used for the entire body. It is especially recommended for areas with stretch marks and cellulite, as the caffeine in coffee grounds stimulates the skin to eliminate the marks. Do-it-yourself scrubs are also a practical accessory for pedicures and manicures at home, removing dead skin cells and improving hydration.
To make your DIY coffee scrub, just ground leftover coffee beans, and add some water and brown sugar.
Coffee grounds and brown sugar have strong (natural) exfoliating properties and improve skin texture. To prevent tear and damage to the skin, you can also add almond oil and vitamin E oil, which are also good antioxidants for skin health and appearance. Orange essential oil is optional but provides additional cleaning benefits (with a refreshing scent).
2) DIY Coffee Flower Pots
Coffee grounds are an excellent element for fake flowers just like soil is for natural ones. First, make sure the coffee grounds are dry.
Moisture can lead to mold and bacteria. You can dry it with paper towels or let it dry in the sun. Next, place the coffee grounds in a vase or clear container. Add your favorite fake flowers. Voila, you have a beautiful and long-lasting floral centerpiece.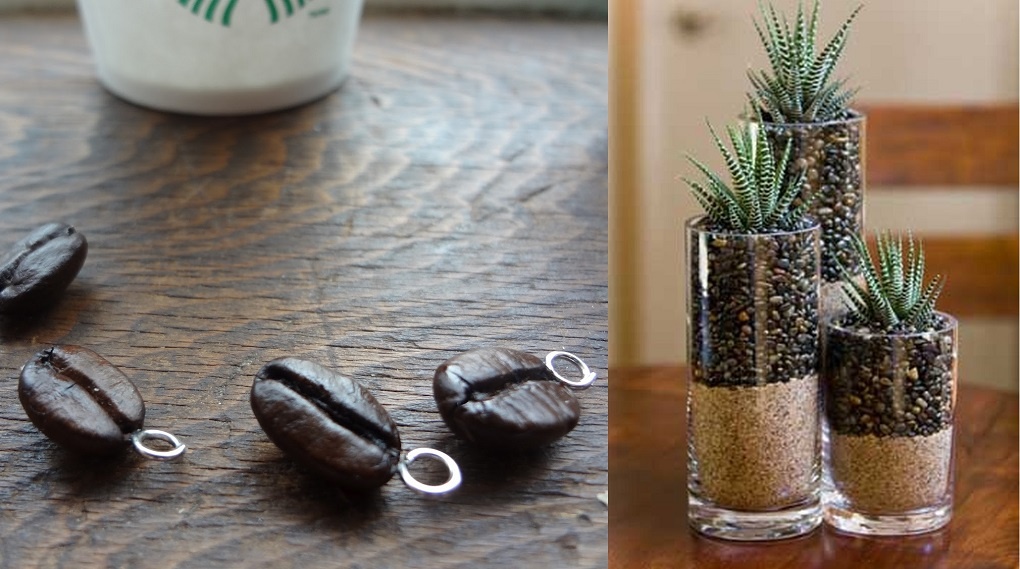 3) Coffee-Scented Candles
Are you a fan of the aroma of coffee? Why not make your home smell like a small Italian café? By turning used coffee grounds into candles, you can enjoy the aroma of coffee all day long. One way to do this is to reuse old candles that are no longer in use but still have some wax left in them.
Requirements
Coffee cups (paper ones like those found in coffee shops)
1-2 tablespoons of used coffee grounds
1 cup leftover candle wax or commercial wax
Candle wicks
You will also need paper towels, scissors, a small pan, and a small bowl (glass or metal).
-First, you will need to heat the wax to shape it. Place 1 cup of wax in a small heatproof bowl.
-Place the bowl on top of a small pot half-filled with water. This will make a double pot. (Note: do not soak the bowl in water).
-Bring the water to a boil. Watch closely as the wax melts; it should take about 5 minutes.
-Place the used coffee grounds on a paper towel and squeeze to ensure no excess liquid.
-Prepare a clean paper coffee cup. Make sure it is dry. Place the wick in the center of the cup and the coffee grounds in the bottom of the cup.
-Pour half of the melted wax over the coffee grounds; allow 20 minutes for the wax to harden.
-Now make the second layer of candles. Heat the wax in a boiler.
-Meanwhile, sprinkle the cooled wax in a cup with another spoonful of coffee grounds. Cover with the remaining heated wax.
-Allow the candles to cool for at least one hour. Once completely cooled, the outside of the paper cup can be cut away. This will reveal a beautiful double-layered candle made of coffee grounds!
-We recommend using scissors to trim the wick.
-Always burn candles in a safe place, such as a glass dish. Do not burn near wood, tin, or other -flammable materials.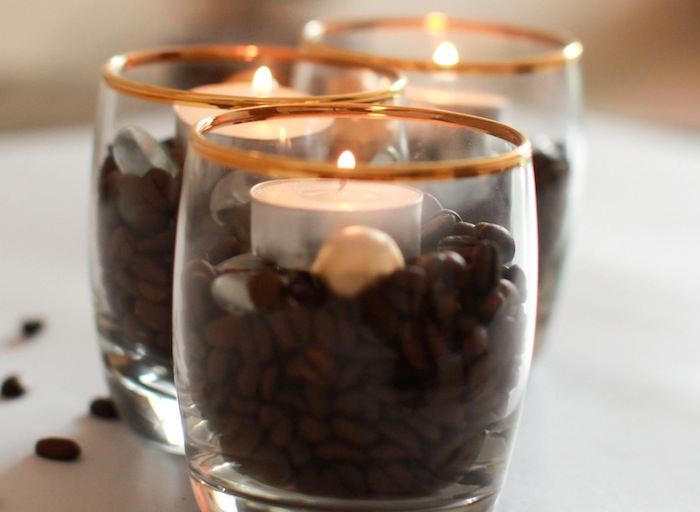 Let us know which among these crafts you've tried in the comments below!