Many are those who enjoy summer days. The truth is that it seems that we make the most of all typical objects of this season to create beautiful decorations for your home or to make jewelleries. One of these objects is seashell. Do you want to know more about what you can craft with seashells? You've reached the right place as this is exactly what we are going to cover today! Enjoy!
1.Photos
This idea is perfect for those who have a house in a coastal area and want to decorate it with a marine vibe. Just buy photos with a nice background (like of the beach) and glue the shells or starfish on it.
2.Wall Decorations
If you have a boring plain white wall and don't really know what to do with it, here is the solution – create a wall decorated with seashells. What do you need? Transparent or nylon tread, seashells and pieces of polished rocks or corals that you can find during a walk on the beach. Insert each piece by tying small knots, creating the strips you need to cover the wall and then hand them up.
3.Beautiful Bottles
Take advantage of the glass bottles you have at home and with some string and some shells or corals, create decorative bottles. Simply wrap a string around the bottle neck and before cutting it, insert your seashells. Or, you can also glue your seashells on the string.
4.Exotic Bathing Suits
Yes, you've read that right! What do you think of this idea? No need to browse the shelves of endless stores looking for the perfect swimming suit anymore. You can simply buy a basic one and personalize it with some seashells. You can sew them on the bottom or wherever you like, making your unique design.
5.Seashells for Your Hanging Plants
Hanging pots are very trendy: cement vases, wooden vases, macramé vases, etc. But what if instead of using large pots, you use large seashells or sea urchin shells to hang your succulents and create a jellyfish like effect. We are sure you and everyone seeing them will love them!
6.
Personalized
Invitation Cards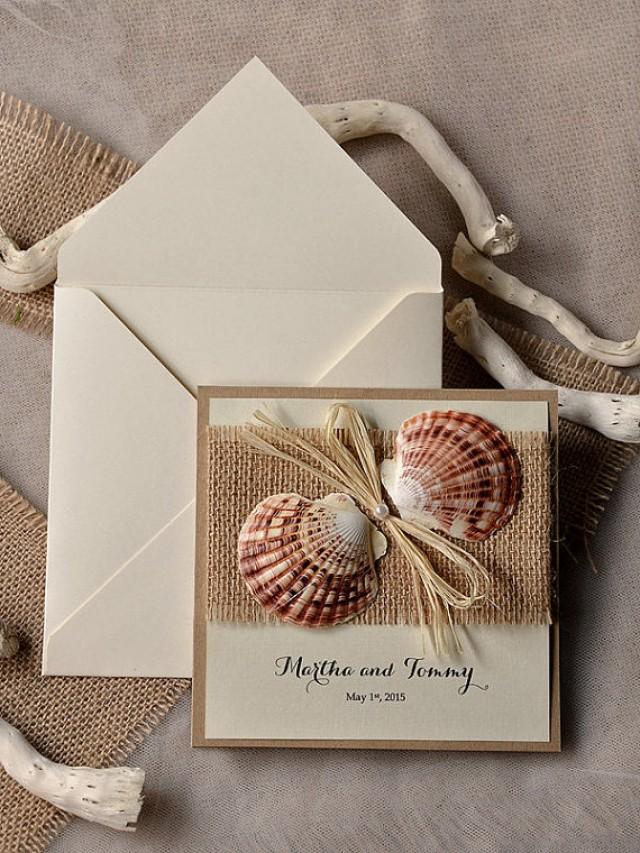 This idea is perfect for those who are getting married for example or hosting an event of some sort in a coastal area. Make your own exquisite invitations to leave your guests speechless. All you need is some scrap paper, glue, strings and lots of seashells, The results can be amazing!
7.
Garland of Lights
Get a light garland without any decoration and, using a hot glue gun, glue a seashell on each bulb. This way, you will quickly and easily create a light garland with seashells.
8.
Dream Catcher
If you love crafting with seashells, this option is another perfect one. Create a dream catcher with many shells. And, when you hang it, when there will be a little wind, you will hear the peaceful sound of shells clicking with each other. It is beautiful to decorate the porch of a house or any other outdoor space with it. You can even hang it in your bedroom.
9.
Bottle Lamps
We have often seen lamps made with a glass bottle but why not upgrade it by filling the bottle with some fabulous seashells. We guarantee a breathtaking outcome!
1
0.
Candles
in
Seashells
This one is probably the easiest seashell craft of our list. When you see that the candles you have at home are burning out, take the opportunity to melt the wax in a container. You can paint your shells to your liking and then pour the wax into the shells and place a wick in the middle of each one.
What do you think of these ideas? If you, too, love to take a walk on the beach and pick up shells along the way, be sure to let us know what you're going to do with them by leaving a comment below.