Want to do a DIY project with your child but don't have a lot of materials at home? No problem. You can go a long way if you have paper, scissors, and a pencil. Want to know what you can do with paper? Here are some fun things you can make with paper. These creative projects are suitable for toddlers, preschoolers, and older children.
1) Make Cards
Making cards is great fun and doesn't require much. A simple card will do, or you can cut an A4 size card in half and fold it. This way, children can use their creativity to the fullest. For example, they can cut out newspaper clippings or photos from magazines and paste them on, or use paint, pencils, markers, or glitter to make beautiful cards. Making your own cards for Christmas and New Year's can be fun. Make Christmas cards with your children and send unique cards to relatives and friends. It is also fun to make your own invitations for children's parties.
2) Make Original Masks
A lot of fun: making paper masks. You can make them from scratch or use templates found online. For instance, you can search for "mask templates" or "mask models" of animals, superheroes, etc. If you print them out, your child can decorate them themselves with paints, markers, pencils, and glitter. If you use sturdy paper or cardboard, the masks will last longer. Decorate the masks, cut them out, and tie rubber bands on each side so they can be fastened behind the ears. This is a fun tip for young and old alike.
3) Make Paper Flowers
Ready for a new bouquet at home? Let your children create the most beautiful paper flowers. All you need is paper and straw, pipe cleaner, or a stick that will be the flower's stem. For example, picture a tulip, draw it on paper and cut it out. Then, glue the flowers to the stems, and you have a beautiful paper flower. Prepare several templates of flowers and cut them out. This way, everyone can make a large bouquet. After all, it is wonderful to create something beautiful on the kitchen table on those dark days of the year.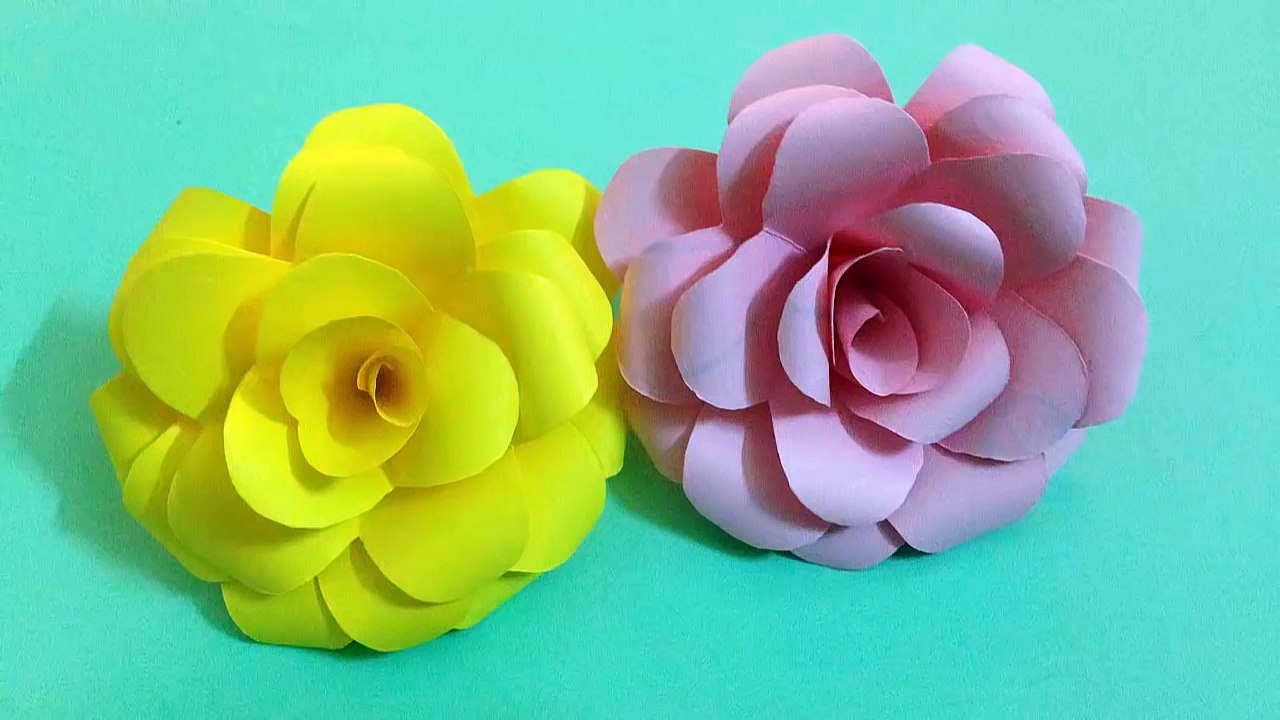 4) Cut And Paste With Paper
Cutting and pasting with paper is a great activity, especially for toddlers and preschoolers (for practice). For example, you can use a simple coloring book page (preferably one with a large section) and have children paste it with pieces of paper. You can cut them out yourself (with children's scissors) or tear them out and then glue them on. For example, you can cut out small circles or shapes from paper and have the children glue colorful shapes on top of them to create a unique craft.
5) Coloured Heart
All you need for this colorful creation is glue, scissors, and paper. Use a strip of paper as the heart in the center. Glue it to a piece of white A4 paper. Cut out enough different colored paper strips and roll them up as desired. Be sure to roll them all differently to make the heart explode. Glue all around the large heart, and your work is done.
6) Paper Kites
Make colorful paper kites together. You do not need much. As soon as you're ready and the weather clears up, you can do a test flight.
You will need:
Origami paper
Glue
Black sign pen
Rope
Plastic eyes
1 pair of scissors
Instructions
Fold one piece of origami paper in half to form a triangle.
Open the origami again and fold one point toward the center. Do the same for the opposite point.
Now cut the string, put glue between the newly folded corners and glue the string in the middle.
Glue the corners to the string and let dry for a while.
To make the ribbon, cut the new folded paper in half and fold one half lengthwise again.
Now cut the paper half lengthwise and cut corners at an angle.
Open the corners to get the bow. Cut as many pieces as you like and stick them to the kite.
Next, glue two plastic eyes to the kite and draw a nose and mouth with a black marker.
Let us know if the kids enjoyed these paper crafting activities in the comments below!